Regular price
Sale price
£33.99 GBP
Unit price
per
Sale
Sold out
These large hand-made copper rings are ideal for medium to large plants such as lettuces, lupins, tulips, delphiniums and hostas. On top of using the rings as singles, you can open and connect multiple rings to work around wider areas.
Unlike harmful sprays and chemical applications, copper rings are environmentally friendly and last for many years. If anything, they actually look better as they age and develop an attractive patina.
Set of 6 large nesting rings.

Handmade from copper in England.

Rigid shape due to formed edges.
Dimensions

Height / 5cm
Diameter / 17cm (average)
Use

Press the slug ring into the soil around the plant.
Make sure that there are no slugs or snails trapped inside. Have a good root around to be certain, because they won't be able to get out. In the 1st few days check that you didn't miss any.
The rings are scrunched into the soil a little way to no gaps underneath for a slug to sneak through. Wet the soil first if it is too hard.
There are no leaves overhanging the ring and touching the soil to make a bridge for slugs and snails to cross.
Foliage doesn't overhang the ring from outside, allowing snails to abseil in.
To take the slug ring off a climber, or a plant which has grown very bushy, rotate the ring to a convenient position, pull the join apart and open the ring enough to clear the plant. Then gently and firmly push the join back together(It can be easier to put one corner of the tongue in first).
Postage

Standard postage is £4.50 and this covers a standard 2nd Class Royal Mail service. This may take up to 10 days. We always recommend that if you are ordering for a gift or need something arriving by a specific date then you upgrade to a 1st Class Royal Mail Service.
Share
View full details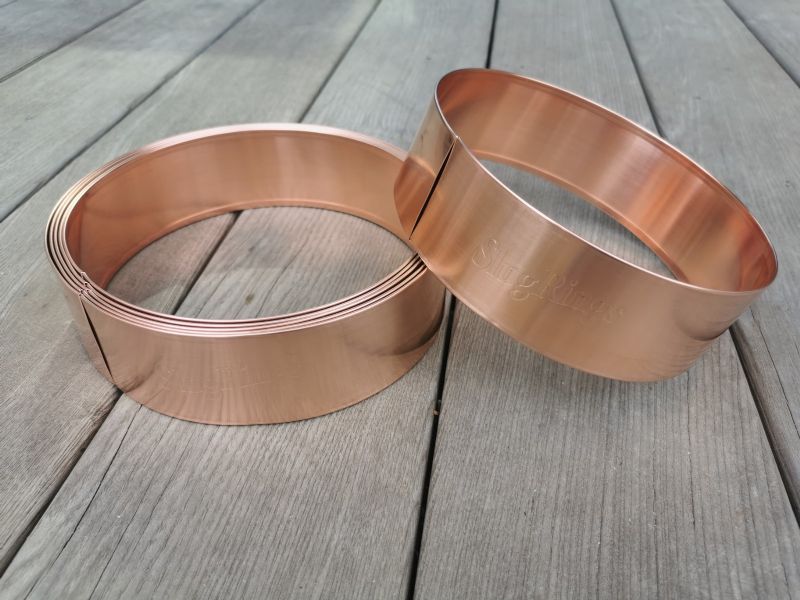 Need Help?
Looking at something you love but have some questions? Specific information not answered in the description, delivery quote required or seek further images? Pop Thomas an email and he'll follow up at the very soonest.